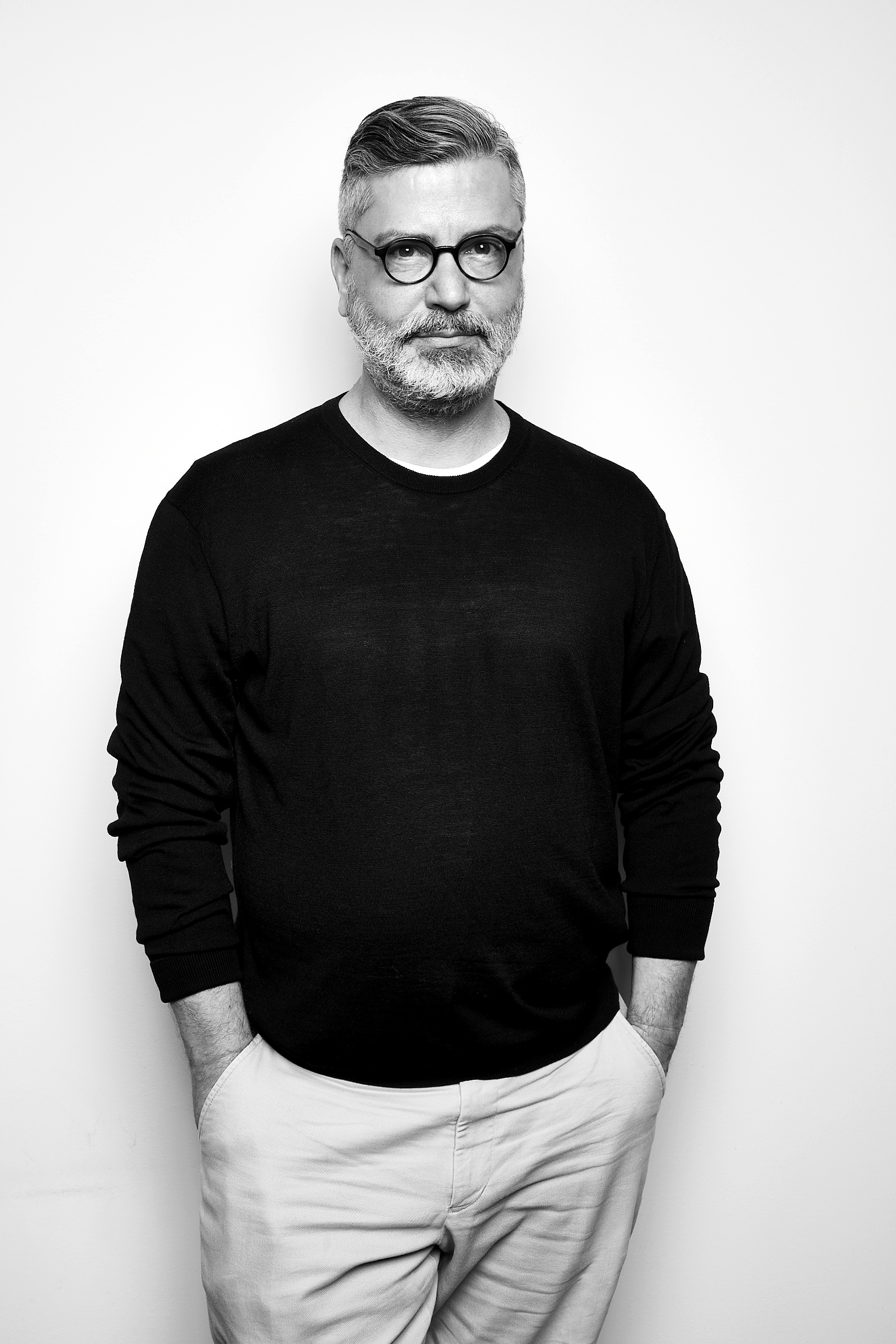 Guillaume HINFRAY, Creative Director, Stylist & Designer.
"Qualitative design must combine well-being, elegance and simplicity. Humility is the key to get there."
Born in Paris, Norman by heart and Milanese by adoption.
Guillaume starts - by chance - in a "haute couture" workshop at Nina Ricci. Graduated at the age of 21 from the School of the Union Chamber of the Paris Couture, he continues his training with the designer and artistic director Christian Astuguevielle.
In 1991, the lights of Milan, a city in full effervescence, which is creating a Style as well in the Fashion as in the Design, attract him. This is the beginning of a new adventure. Guillaume discovers the world of shoes. It's love at first sight ! The challenge of linking comfort, ergonomics and elegance fascinates him. Finally, this object is perhaps the hyphen he seeks for between fashion and design, between clothing and furniture.
With his partner Marco Censi, he founded a fashion office specializing in accessories: shoes and bags. Together, they learn the secrets of working with leathers and different materials. They will quickly work for the biggest Italian and international brands. However, the design is never far away.
In 2001, he launched with friends of all kinds: architects, stylists, graphic designers, the collective "When A meets B", when Fashion meets Design, unless it is the opposite. This collective becomes aware of a cultural and societal clash between design that becomes a fashion product. He wants to bridge these two disciplines and create furniture that are objects of desire as a fashion product is.
Early 2018, Guillaume became involved in the creation of Duvivier Canapés. Seeking to renew the range while respecting the values of Handmade in France, he explores an uninhibited and relaxed chic typical of Parisian style and thus casts a new light on the brand of which he becomes Creative Director in 2019.
For the time being, he has created the following collections for the Maison : the Auguste modular sofa (2018), Emile armchair and chaiselongue (2018) and Elsa sofa, chaiselongue, armchair and ottomans (2020) .